with Lutein, Vitamins A, C & E
and added Minerals. Dietary Supplement.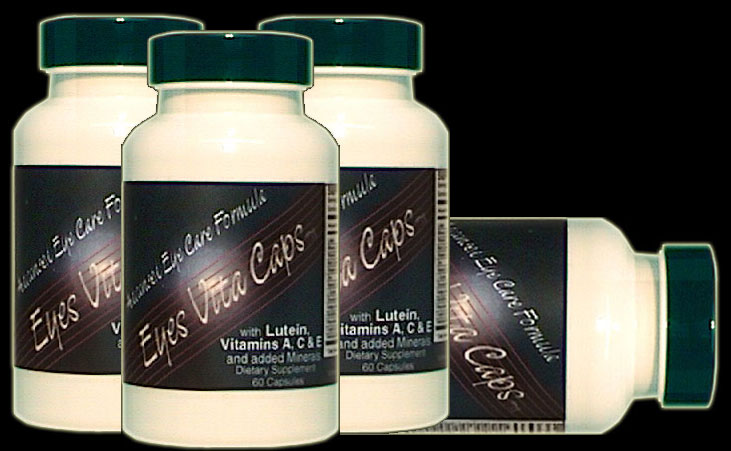 Item # CE-300
Corso Enterprises, Inc. proudly introduces Eyes Vita Caps™, a new synergistic blend of Lutein (Therapeutic amount @ 10 mg) with Vitamins A, C & E, Minerals and botanical extracts specifically formulated for eye function support.
As we age, the accumulated oxidative stress our eyes experience can generate unwanted conditions such as ARMD, Cataract, Poor Night Vision and Glaucoma. The major nutrients found in Eyes Vita Capsª have shown to help retard or even reverse certain conditions and offer significant ocular nourishment. Taken as directed (as a dietary supplement, 2 to 4 capsules daily with meals) it is a reliable source of selected vitamins and minerals which are known to be present at significantly higher concentrations in healthy eyes, relative to overall body stores.
Lutein: Increases serum levels and macular pigment density.
Vitamins C & E: Play a role in the prevention of age-related nuclear lens opacities.
Chromium and Vinpocetine: Assist in glucose regulation; critical for eye and brain function.
Vitamin A and Beta Carotene: Essential for support of the photoreceptor sights of the retina.
During the past few decades numerous studies have been published on the efficacy of nutritional and botanical medicines in the prevention and treatment of ocular diseases, including macular degeneration, diabetic retinopathy, retinitis pigmentosa, cataracts, and glaucoma.
Glutathione and Ocular Photo-Biology
Glutathione is present in the cornea, aqueous humor, ocular lens and retina. In these tissues it serves a variety of functions including maintaining normal tissue hydration, detoxifying peroxides and electrophilic compounds via enzymatic pathways. Glutathione acts as a free radical scavenger to protect against photo-induced damage. In the ocular lens, glutathione levels decrease with aging and cataract formation. Data suggests the pivotal role of glutathione for the protection of the tissues of the eye against oxidative stress.
Megawj JM. Curr Eye Res 1984 Jan;3(1):83-7
Fujii T, Mori K, et al Histochem J 2001 May;33(5):267-72
Spector A CLAO J 1990 Jan-Mar;16(1 Suppl):S8-10
Ginkgo Biloba and Ocular Support
Ginkgo biloba offers inhibition of certain proliferations without the use of cytotoxic agents.
Baudouin C, Ettaiche M et al Exp Eye Res 1994 Dec;59(6):697-706
Clinical Study: Ginkgo biloba extract increases ocular blood flow velocity. Significant increase in end diastolic velocity (EDV) in the ophthalmic artery (OA) without side effects were found.
Chung HS, Harris A, et al J Ocul Pharmacol Ther 1999 Jun;15(3):233-40
Antioxidant Vitamins and Beta Carotene in Cataract Prevention
In-vitro and in-vivo studies have demonstrated a significant protective effect of vitamins A, C and E against light-induced cataract. Sugar and steroid cataracts were prevented as well.
F. Hoffman-La Roche & Co Z Ernahrungswiss 1989 Mar;28(1):56-75
Multicenter Study: 356 case subjects diagnosed with advanced stage AMD vs. 520 control subjects confirmed a 43% lower risk of AMD by increasing bioflavonoid consumption.

Seddon JM, Ajani UA, et al JAMA 1994 Nov 9;272(18):1413-20
Lutein Increases Macular Pigmentation
Macular photoreceptor damage due to cumulative oxidative processes is more prevalent as we age. Macular Pigment consisting of lutein and zeaxanthin through their ability to filter light and by direct antioxidative properties are the most effective protective factor in the central retina. The two most important risk factors for AMD are associated with a relative absence of Macular Pigment. These findings are consistent with the hypothesis that supplemental lutein and zeaxanthin may delay, avert, or modify the course of this disease.
Pauleikhoff D, van Kuijk FJ Ophthalmology 2001 Jun;98(6):511-9
Case Control Study: Confirms increased amounts of lutein and zeaxanthin in the retina decrease risk of AMD.
Bone RA, Landrum JT Invest Ophthalmology Vis Sci 2001 Jan;42(1):235-40
1 Year Case Study: Blue light damage causes higher risk for AMD. With supplementation for 140 days there was a 30-40% reduction in blue light reaching the photoreceptors, BruchÕs membrane, and the retinal pigment epithelium, the vulnerable tissues affected by AMD.
Landrum JT, Bone RA, Joa H Exp Eye Res 1997 Jul;65(1):57-60
Antioxidant Minerals Copper, Selenium and Zinc for Ocular Support
Copper and Zinc, critical for proper eye function, combine with Super Oxide Dismutase as an important scavenger in the lens and may have a protective role against cataract formation. An alternative role for Selenium has shown to be as an antioxidant in the eye.
Behndig A, Karlsson K Free Radic Biol Med 2001 Sep 15;31(6):738-44
Sinno JA Biol Trace Elem Res 1989 Apr-May;20(1-2):153-9

THE STATEMENTS MADE HEREIN HAVE NOT BEEN EVALUATED BY THE U.S. FOOD AND DRUG ADMINISTRATION. THIS PRODUCT IS NOT INTENDED TO DIAGNOSE, TREAT, CURE, OR PREVENT ANY DISEASE.
Many experts may disagree with one or more of the statement made herein concerning relationships of various nutritional factors to structures and functions of the human body, and/or various nutritional situations adjunctive to certain bodily conditions. These statements are deemed, nevertheless, to be based on sound and reliable authorities.

No such statement shall be construed as claims or representations that any Corso Enterprises, Inc. products, which are medical devices and food for special dietary use, are offered for the diagnosis, cure, mitigation, treatment, or prevention of any disease.